Les Lacs du Verdon
OUR COMFORT MOBILE-HOMES
There's nothing like a pleasant little holiday home in which to rest after a day of exploring, tasting, lazing around, or swimming in the Gorges and lakes of the Verdon. This cocoon of well-being awaits at the Lacs du Verdon campsite. These are the Comfort mobile homes.
.
THE COMFORT RANGE: FOR EVEN MORE COMFORT
A green setting located just a few kilometres from the Gorges and lakes of the Verdon, our camping village is the ideal place to spend your holiday with friends or family.
For absolute comfort throughout your stay, we offer the COMFORT mobile homes. Equipped with a fully equipped kitchen, sleeping areas with storage, a functional shower room, and a warm living-dining area, it has everything you could possibly need.
Good to know: Our campsite also has a mobile home adapted to reduced-mobility guests.
OUR COMFORT RANGE:
Capacity: up to 10 people
Shady terrace
With or without air-conditioning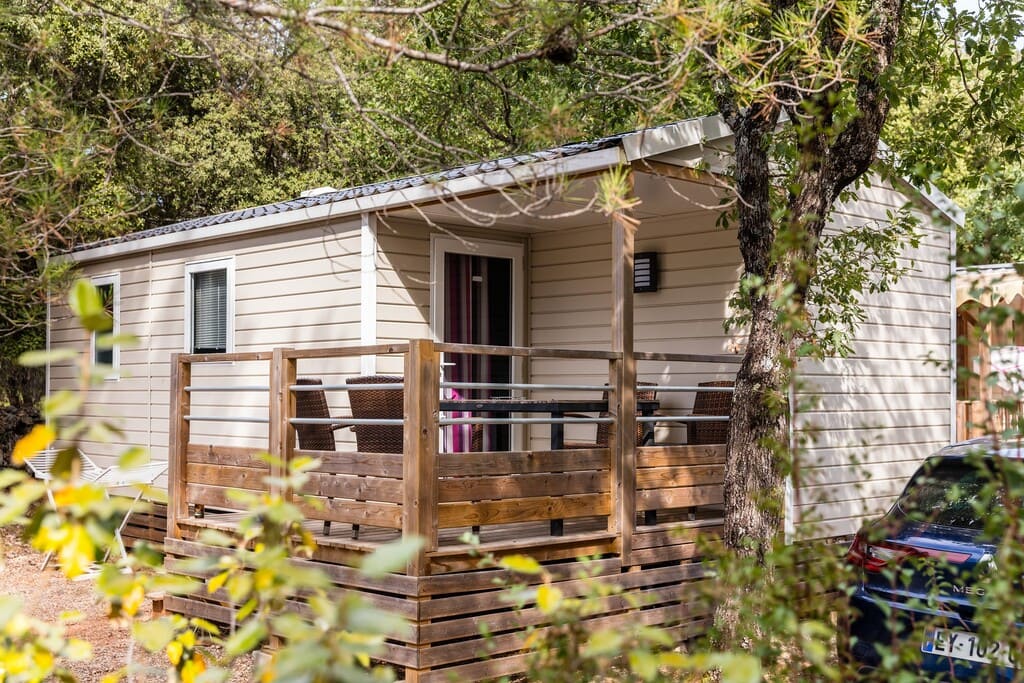 Tourist tax per adult over 18: €0.66/day /pers.
Eco-contribution towards the treatment of household waste: €0.35/day/pers.
Admin fees: these are due for each nominative file and only once per season: €10 or €25 including VAT, depending on the method of payment used.
For more details: Terms and Conditions of Sale and Rental
Housekeeping package: €70 if paid upon reservation (€95 on site).
Deposit (Mobile home + Housekeeping): €150 deposit
Additional expenses: Pool and/or entertainment wristbands required
Cancellation insurance: This option can be taken out at the time of booking, the price of the insurance is defined according to the amount for the stay.