Les Lacs du Verdon
OUR PREMIUM MOBILE-HOMES
Imagine upscale accommodation nestled in 17 acres of lush parkland. This is exactly what the 4-star Les Lacs du Verdons campsite offers, with its range of Premium mobile homes.
THE PREMIUM RANGE: OUR TOP-OF-THE-RANGE MOBILE HOMES
With its vast water park, its playground, and its wide range of services and 4-star amenities, the Les Lacs du Verdon campsite welcomes you for unforholidaysvacations beneath the southern sun.
Because your well-being is our priority, we offer spacious and modern accommodation: the PREMIUM mobile home. The Premium mobile home promises of a top-of-the-range holiday in an idyllic setting, adapting to your every desire. Sleeping up to 6 people, this mobile home is guaranteed to be less than 4 years old and has a television, large living areas, and spacious and comfortable bedrooms.
OUR PREMIUM RANGE:
Premium Exclusive service: WiFi, linens, Housekeeping Package, welcome housekeeping kit
Fully-equipped kitchen with dishwasher
Air-conditioning and a shady terrace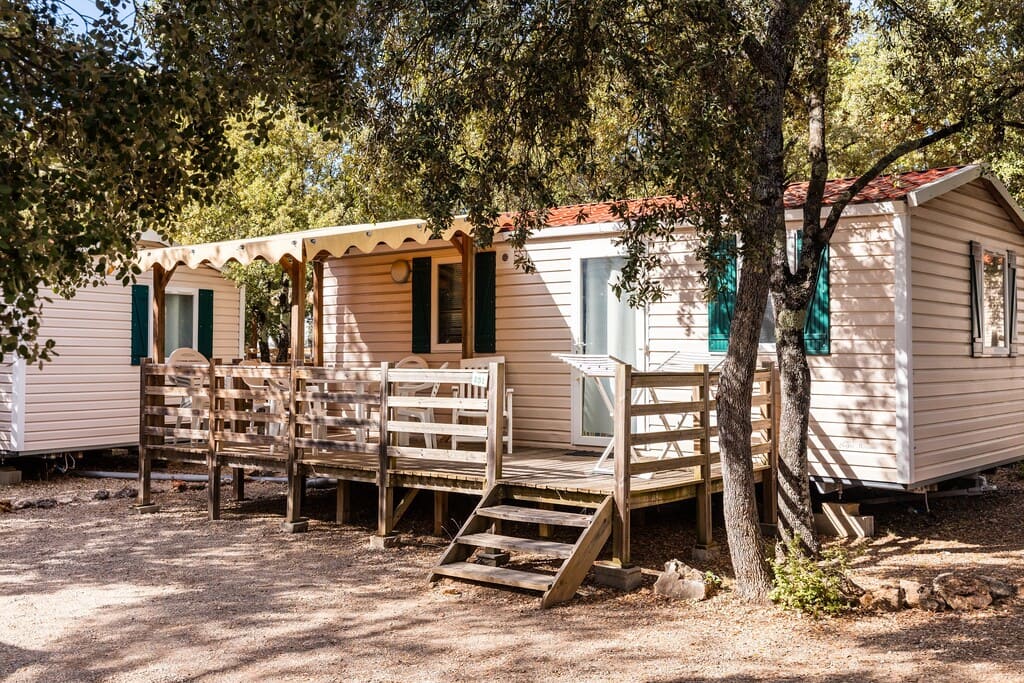 Tourist tax per adult over 18: €0.66/day /pers.
Eco-contribution towards the treatment of household waste: €0.35/day/pers.
Admin fees: these are due for each nominative file and only once per season: €10 or €25 including VAT, depending on the method of payment used.
For more details: Terms and Conditions of Sale and Rental
Cleaning package: €70 if paid upon reservation (€95 on site).
Deposit (Mobile home + Cleaning): €150 deposit
Additional expenses: Pool and/or entertainment wristbands required
Cancellation insurance: This option can be taken out at the time of booking, the price of the insurance is defined according to the amount for the stay.